Looking Deeper: Airbnb
Eye tracking study of the Airbnb website conducted using the Hawkeye app
In the Looking Deeper series, we use Hawkeye to conduct eye tracking tests on different products and report back our findings.
Last month, we kicked off our Looking Deeper series with a user study of the Urban Outfitters website and were absolutely thrilled by the response! Huge thank you for reading and sharing the post!
If you're new around here, Hawkeye lets you conduct eye tracking tests using an iPhone or iPad without any extra hardware. This lets you go a level deeper than traditional event-based analytics so you can understand exactly how a user experiences your product. Best of all, because it's all software based, you can forget about clunky and expensive eye tracking hardware. Just download the Hawkeye app on an iPhone X, XS, XR, or new iPad Pro and start collecting valuable insights in minutes.
In this series, you'll learn by example how eye tracking can help improve your products, whether you're a designer, marketer, or developer. Along the way, we'll also share what conducting these tests has taught us about our own product.
---
The Gameplan
For our second installment, we're taking a look at the Airbnb mobile website. With over 75 million annual visitors, mobile is a core part of the Airbnb experience. We took to the streets and asked 25 people to book an Airbnb in San Francisco for the upcoming weekend.
Browsing
Map Pins Are Too Simple
Nearly 75% of users interacted with the map while looking for a place to stay. Each listing is represented on the map by a pin showing its price, with details for the selected listing shown at the bottom of the page. With so little information shown on the map itself, the user constantly had to tap between the map and listing details page. For example, notice the 'no service fee' section that pops up at the end of the gif. By adding more information to the pins themselves, users could more easily scan the map for interesting listings. For example, if a host was offering a discount on their property, it's pin could include an icon indicating the price drop.
Listing Tags Grab Attention
'Superhost' and 'Rare Find' tags were clear eye catchers while testers browsed through listings. However, 'Price Drop', 'No Service Fees', and 'People Eyeing this Place' banners only appear once the user taps in to an individual listing. To help users quickly find good deals, this information could be included in the list view using a similar design to the existing Superhost and Rare Find tags.
---
Property Details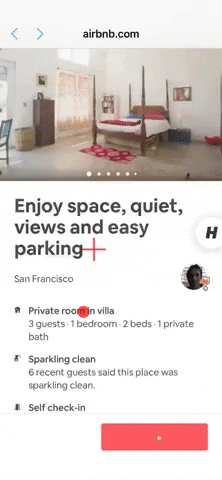 Pictures of Text = Boring
As expected, photography was one of the most important factors when a tester was deciding on a listing—nearly 90% of testers spent over five seconds looking at the photo carousel for each listing they visited. In several cases, a tester even left the listing page immediately after viewing an unflattering picture. We found photos of text lost the user's interest especially quickly. With this in mind, Airbnb could use OCR to scan uploaded photos for text and warn hosts against posting them. On the other hand, pictures of pets always caught the tester's attention because, come on, who doesn't like pets! 🐶🐱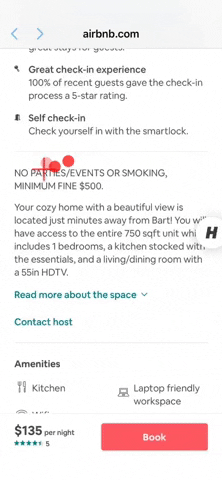 Dense Descriptions
Descriptions pack the most information about a property but in the most boring manner. Less than 40% of testers stopped to read the description and less than 10% expanded the section to view the full description. To make the description easier to skim, Airbnb could highlight key information just like they do for reviews. Going the extra mile, user preferences could be taken into account to highlight parts of the description that are particularly relevant to the user's booking habits.
Review Categories Aren't Tappable
The reviews section for each listing is already extremely well done! However, almost 50% of users attempted to tap a review category like Accuracy or Communication—even though they don't link to anything. Linking these labels to fill out a search query would save the user several taps and result in a better user experience.
Decisions, decisions, decisions...
While traditional event-based tracking could tell Airbnb which listings attract the most clicks, they wouldn't understand what separates these listings from the rest. Even with a screen recording, they would be left guessing where the user is looking. Was it the beautiful artwork, eloquent description, or rave reviews that made them book?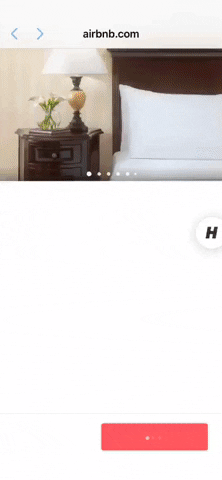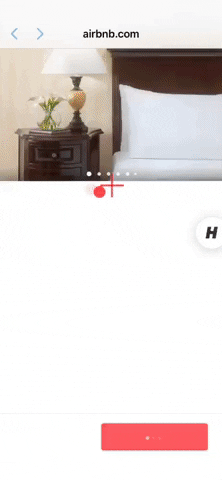 Using Hawkeye's eye tracking, Airbnb could understand the user's thought process as they search for a place to stay. This information could help Airbnb promote great listings and help hosts improve theirs!
---
Takeaways
Thanks to the insights provided by eye tracking, we were able to identify potential improvements to the Airbnb website that might have otherwise slipped through the cracks.
Add Details to Map Pins: Testers constantly had to look between the map and details section to find key information about listings. If more information was added to the map pins, users could browse more easily.
Listing Tags Grab Attention: Tags for Rare Finds and Superhosts always caught the tester's eye. Adding more types of tags could help users find good deals.
Warn Against Pictures of Text: Testers almost always looked away when viewing pictures of text. Hosts could be warned before uploading pictures of text.
Highlight Key Parts of Description: Most testers never spent significant time reading a listing's description. Bolding key information could make descriptions easier to skim.
Pass Findings on Top Hosts: Certain photography, tags, and descriptions caught the user's attention more than others. By identifying what seperates popular listings from the rest, Airbnb could share recommendations with hosts.
These techniques could be applied to any product. Compared to event-based tracking or plain screen recordings, eye tracking can help you identify where users get lost, what grabs their attention, and why they make the decisions they do.
What We Learned About Hawkeye
After our first study, it was clear we needed to make some improvements to the Hawkeye app's stability and eye tracking accuracy. Over the last few weeks, we've completely redesigned our heatmaps to support more websites and provide more detailed analytics. We've also dramatically improved how sessions are saved, making for faster and more reliable uploads. Last but not least, we made some tweaks to our calibration process that resulted in our most accurate eye tracking yet!
This study gave us a perfect opportunity to test out our updates and we were thrilled with the results. That being said, there's always room for improvement. Calibration still proves to be a pain point and something we're hoping to remove in the future. While heatmaps are performing better than ever, we were aching to aggregate results across all our tests. Most of all, we felt the pain of having to conduct each of our 25 tests in-person. This only made us more excited for the remote testing system we have in the works, but let's keep that one between the two of us for now. 🤫
---
We can't wait to conduct more studies as part of the Looking Deeper series! Thanks to everyone who's tried out Hawkeye and given their feedback. Please keep it coming—it really means the world to us. 😊
Thank you to our wonderful testers. But what about those exclusive Hawkeye x Apple Airpods IIs?! That's right! Congratulations to Zach!
If you liked this post, be sure to follow us on social media!