Looking Deeper: Urban Outfitters
Eye tracking study of the Urban Outfitters website conducted using the Hawkeye app
In the Looking Deeper series, we use Hawkeye to conduct eye tracking tests on different products and report back our findings.
What's Hawkeye?
You're probably already familiar with the countless analytics tools that help you understand the behavior of your users. Tap events, funnels, and drop off rates are all fantastic ways to understand the overarching trends of your user base. However, let's face it—a user's experience is far more complicated than the buttons they tap and the pages they visit.
Hawkeye uses recent advancements in camera technology to perform eye tracking without any extra hardware. This lets you understand exactly how a user experiences your product, from what catches their attention to where they get confused. Because it's all software based, gone are the days of frustrating and expensive eye tracking hardware. You can simply download the Hawkeye app on an iPhone X, XS, XR, or new iPad Pro and start collecting valuable insights in minutes.
So far, we've been thrilled by the response to our Early Access release of the Hawkeye app. The feedback from our community has been essential in improving the product and determining what to build next!
Today, we're excited to launch a new blog series, Looking Deeper. In each installment, we'll use Hawkeye to conduct a user study of a different product. You'll learn how eye tracking can help you improve your products, whether you're a designer, marketer, or developer. Along the way, we'll also share what conducting these tests has taught us about our own product.
The Test
We're kicking off the series with a case study of the Urban Outfitters website.  We invited twenty UCSB students to participate in the test with the possibility of winning limited edition Hawkeye AirPods (in other words, normal AirPods plus a Hawkeye sticker). Each tester was asked to locate the New Arrivals section on the Urban Outfitters website and add three tops of their choosing to their cart.
Finding New Arrivals
From the start, it became apparent that different users found the New Arrivals section in different ways. All ten men browsed the Urban Outfitters homepage until they came across the New Arrivals banner, while all ten women found the section through the sidebar menu.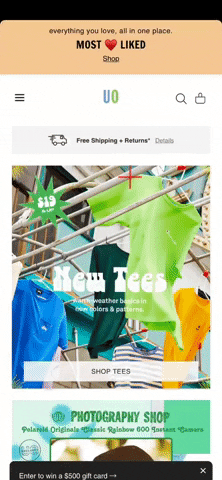 We also found the majority of users missed the New Arrivals section while scrolling through the home page. Instead of reading the small New Arrivals title, their eyes were either drawn to the woman or they didn't look closely at the section at all.
Urban Outfitters could improve their homepage by emphasizing the title of each section in their artwork. This would help users find what they are looking for while skimming the homepage. In this case, we'd recommend increasing the 'New Arrivals' text on the banner!
Eye-catching Elements
Once a user tapped into a product, it became apparent what they cared about: the look of the item and its price!
Our Findings
Traditional event-based tracking could help Urban Outfitters determine which homepage sections are struggling and which products are unpopular. However, these metrics would be presented without an explanation.
A poor performing homepage section could be attributed to anything from its placement on the page to user preference. The story behind an underperforming product could be even more complicated.  Maybe the user gets turned off once they look at its price or maybe when picking from a grid of products, they never even look at it in the first place!
Hawkeye answers the questions behind the raw numbers. Instead of telling you what works and what doesn't, it tells you why. Faced with a poorly performing New Arrivals section, Hawkeye would show Urban Outfitters that unclear artwork is the culprit. If the problem is an unpopular product, Hawkeye would help UO understand if better photography is needed, if the product is too expensive, or if shoppers just don't like it.
What We Learned
During our Early Access period, we've worked hard to understand the needs of our users. Conducting this user study let us step into their shoes.
Right off the bat, we learned how painful it can be to manage and communicate with a group of testers. We quickly added the ability to record tester information and email with them right from the Hawkeye app. The update is already live on the App Store!
Watching twenty different testers complete our eye tracking calibration process also helped us understand what we need to improve when it comes to ease of use and accuracy. More to come on this soon :)
---
We can't wait to conduct more studies as part of the Looking Deeper series! Thanks to everyone who's tried out Hawkeye and given their feedback. Please keep it coming—it really means the world to us 😊
In the meantime, thank you to our wonderful testers and congratulations to our Hawkeye AirPods winner, Dana Yuen!
If you liked this post, be sure to follow us on social media!